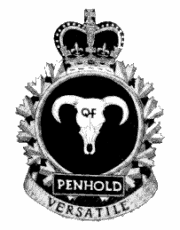 Base crest of CFB Penhold.

About the Mynarski Name

Many of you probably remember my comic strip as "The Adventures of Skippy & Liska" and may be wondering about the name change. So here's a brief history behind the Mynarski name:

My father's final military posting was at CFB Penhold (at the time, the smallest base in the Canadian Forces, the best in the west!) and we lived there for five years. Our community, the base married quarters were inaugrated in 1954 as Mynarski Park in honour of Pilot Officer A.C. Mynarski.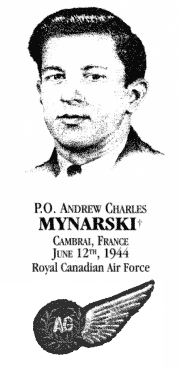 Image courtesy of the Canadian Armed Forces

Andrew Charles Mynarski was born in Winnipeg, Manitoba, on October 14th, 1916, the son of Polish immigrants. He enlisted in the Royal Canadian Airforce in November of 1941 and was sent overseas in December of 1942 after graduating as a mid-upper air-gunner. On June 12th 1944, Mynarski was assigned as a gunner aboard a Lancaster bomber in a raid on Cambrai, France.

The aircraft was hit by an enemy fighter and the pilot was forced to order the plane abandonned after fire broke out. Mynarski prepared to escape when he realized that the tail gunner was trapped in his position, and made his way through the fire in an attempt to free him. However it was not possible for the tail gunner to be released from his position, and he told Mynarski to save his own life and bail out. As a final gesture Mynarski turned and saluted his comrade before abandonning the plane. Unfortunately both Mynarski's clothes and parachute had been set on fire during his rescue attempt and he later died of his burns. Ironically, the tailgunner miraculously survived the crash and was able to give testimony to Mynarski's heroism. Mynarski was later awarded the Victoria Cross for his actions.

The Penhold base was shut down in 1995, and the housing development was sold to the private sector and renamed Springbrook. The base's gym facilities are now operated as a public health spa under the name "Mynarski Park Recreation Centre". I liked the name Mynarski because I imagine the comic strip happening somewhere near the former base, because it says something about my father's own military service, and because there's an interesting story behind the name that I thought should live on after the base closed. So from the very begining Skippy &amp Liska's home was christened Mynarski Forest.

Nevertheless, with Andrew Mynarski being a bona fide Canadian hero, I felt I owed it to his family as a matter of respect to get their blessings before using the name as the title for my strip. So my father did some research for me and found a gentleman named Don Pearsons, who works for Heritage and Protocol at CFB Winnipeg. I contacted him in hopes that he'd be able to put me in touch with Mynarski's next of kin, and in yet one more of those odd coincidences that seems to plague my web site, it turned out that Don is a very close personal friend of the Mynarski family. He was very nice, and inquired as to why I wished to contact the family. He actually seemed suprised and a little taken aback that I'd take the time to seek the family's permission on this so he placed me in touch with one of Andrew Mynarski's cousins, a lady named Jocelyn Holowaty. After I talked with her on the phone for a while and faxed her a couple of comics, she said she didn't have any problems with my request to rename the strip "Mynarski Forest".

And so it is now my great pleasure and privilege to present my silly little stories to you under a proud new name. I hope you'll continue to enjoy them!


---
"....Lay them with all that is most living,
In light transcendent,
In the ageless aisles of silence,
With the Immortals that saved the world."


-Canada's Second World War
Book of Remembrance

Return to the Mynarski Forest Home Page!
Richard T. Matheson
(c) 1998 by FoxSTAR Arts