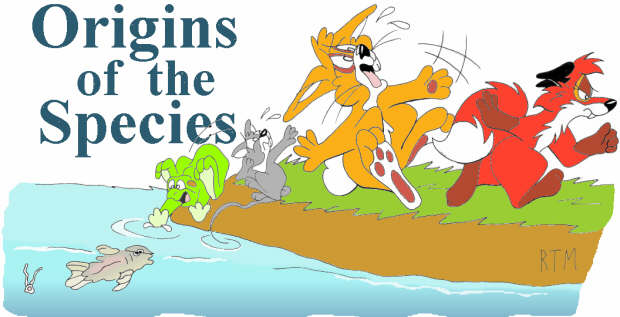 The earliest inspiration for Mynarski Forest was itself a comic strip of sorts, dating back nearly eighty years. I first read the translation of The Cunning Little Vixen back in 1986. The novel was written by Czech author Rudolph Tesnohlidek and was first published in 1920 as an illustrated serial in the Brno newspaper Lidove Noviny. The heroine of the story was an unruly fox named Vixen Sharp-Ears, or Liska Bystrouska in the original Czech. While Sharp-Ears frequently acted crude or even downright thuggish throughout the story, she nevertheless came across with a great deal of earthy charm. By the time I had finished the book, I found myself wanting to tell my own stories about her. Unfortunately, school didn&acutet leave me with a lot of time to do such a project, and I really didn&acutet have the skills or the audience necessary to make it a satisfying experience. So I contented myself with the occasional doodle and put the idea on hold.
I finally got around to getting on the Internet in September of 1996. It didn&acutet take long to discover The OzFoxes&acute Fox Web or Antti Remes&acute Nimbl&acutes Den (from which I first learned of The Fur Ring). While viewing the work of these two very different but talented artists, I eventually hit on the concept (DUHHH!!!) that I too could use the Web to inflict my stuff on the world. With over 30 million people on the Internet, I could have a potential audience of nearly half a dozen people! I started to work right away.
Along the way the strip departed quite a bit from Tesnohlidek&acutes original story. Like most foxes, Liska is very much her own person and refused to be cast in anyone else&acutes mold. She also insisted on me setting the action in modern day Alberta because she wanted access to heavy machinery and automatic weapons. But the biggest change was the addition of Skippy. A cartoon vixen needs someone she can shock, horrify, mutilate, bully, and sing country music to, and a rabbit seemed like a good choice. I soon discovered that many web comic strips have rabbits and foxes hanging out together, but by then Skippy had his heart set on the role...
As far as modern influences go, my favourite comic strip of all time has got to be Calvin & Hobbes, with The Far Side as a close second, and Herman as my third. Unfortunately they&acutere all out of print now, and the closest things to them are web comics like Kevin & Kell. I&acutem also a big fan of MAD magazine and even got a letter printed in it in issue #342! Perhaps most frightening of all is that I had seen every episode of Gilligan&acutes Island at least three times by the time I was five years old, with predictably tragic results. So if you see Liska daydreaming about her horsie or if she falls out of a coconut tree on top of Skippy, at least you&acutell know who I&acutem stealing from...
---
Richard T. Matheson
(c) 1997 by FoxSTAR Arts