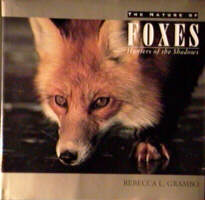 Photo reproduced with the permission of Greystone Books

Foxy Books

The Nature of Foxes - Hunters of the Shadows
Text (c) 1995 by Rebecca L. Grambo
published by Greystone Books, a division of Douglas & McIntyre
ISBN 1-55054-184-6
(published internationally by Sierra Club Books under the title The World of the Fox)



The Nature of Foxes is a solid, well balanced view of several fox species and their relationships with humans. Grambo begins by describing some basic traits common to most foxes. She continues with descriptions of the arctic, grey, kit and swift, and red foxes. The life cycle of the red fox is covered in detail in chapter two which outlines a year in the life of a fox family.

The third chapter describes humanity&acutes relationship with the fox. Mythology and literature are explored first. Fox hunting and the fur industry are then discussed, as well as the changing attitudes man has regarding foxes as vermin. The section is concluded with a look at new methods being used to control rabies in fox populations.

An appendix lists the common and scientific names of every fox species in the world, along with comments about each and information about their distribution.

The text is enjoyable, easy to read, and has lots of interesting information. It&acutes accompanied by a ton of large, beautiful, color photographs of several different species. An extensive bibliography and index are also included. 109 pages.
---
Richard T. Matheson
(c) 1997 by FoxSTAR Arts