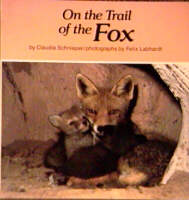 Photo reproduced with the permission of First Avenue Editions

Foxy Books

On the Trail of the Fox
by Claudia Schnieper / photographs by Felix Labhardt
(c) 1985 by Kinderbuchverlag KBV Luzern AG (under the title Dem Fuchs Auf Der Spur)
Translated from the German by Elise H. Scherer
published by Carolrhoda Books Inc.
soft cover edition by First Avenue Editions
ISBN 0-87614-480-6 (paperback)


Written for a younger audience, On the Trail of the Fox gives a good, basic introduction to the red fox. The book accurately but briefly describes the animal, it&acutes range and habitat, it&acutes keen senses, and diet. The life cycle of the fox is particularly well covered, including courtship, birth, growth, and development of the pups. The text is concise, easy to read and understand.

While it can serve as a quick reference, the book&acutes greatest interest to older readers will probably be it&acutes fair number of colour photographs. A glossary and index are included. 48 pages.
---
Richard T. Matheson
(c) 1997 by FoxSTAR Arts