<!-+++!-> A furry comic about a sociopathic red fox vixen and her reluctant rabbit sidekick. Also includes foxy collectables and an extensive vulpine reference. <!-+++!->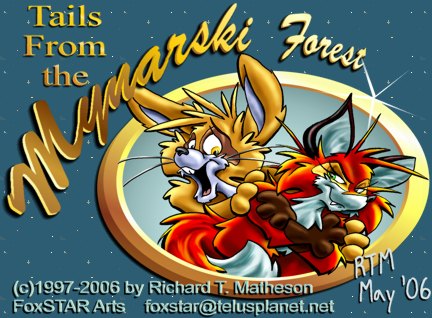 Wanna link to this site?! 'Course ya do!


Visit my Yerf Archive!


Created by
Rt Matheson
(c)1997-2008
FoxSTAR ArtsPlease read this scary copyright information!
Howdy, and thanks for dropping by! If it's been a while, you may want to check the Site History/Update page. Believe it or not, Web Counter says you're visitor number to this site!

Welcome to the anthromoronic, anthrosophomoric, anthropomorphic world of Skippy and Liska! He's a jittery cottontail rabbit. She's a sociopathic red fox vixen. Together, they get into all kinds of trouble, both in the Mynarski Forest and the nearby, fictional central Alberta town of Holland Valley. Every Monday, share the weekly (weakly?) adventures of a cunning little vixen and the rabbit who tolerates her!



After much personal debate, I've reluctantly decided to suspend the current storyline with a bit of a cliff-hanger and place Mynarski Forest on a six month hiatus, with new comics tentatively scheduled to resume next spring. You can read more about this decision by clicking here.

In the meantime, as of September 14th, I will be re-running select "classic" Mynarski Forest strips accompanied by an artist's commentary, along with previously un-released sketches, artwork, personal photos, and random miscallaneous stuff including this year's Jack-o-Liska and Christmas card. Just think of it as like the bonus content you get on a DVD!

Oh, and if you haven't already done so, feel free to read about my recent adventures during an RCMP training exercise!


<! normal toon is 501x 548> <! old toon is 501x 378>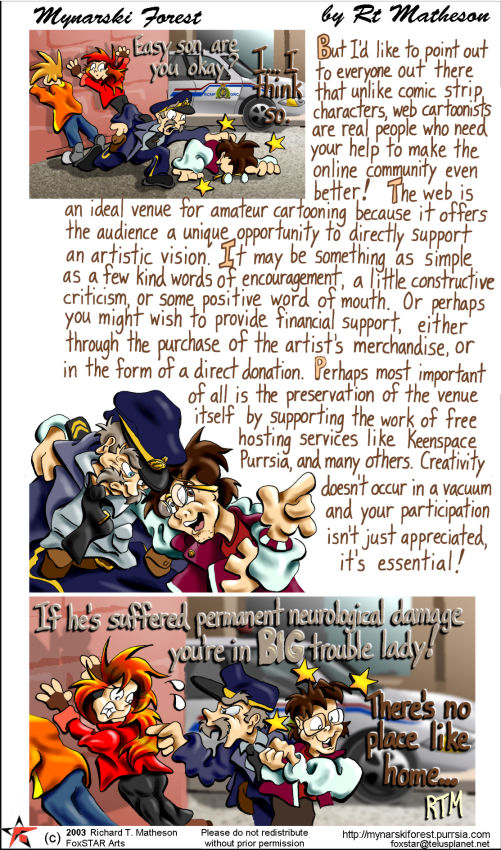 This comic almost doesn't need a commentary since the whole strip is practically a commentary in itself. :)

When I first started drawing Mynarski Forest, the online comic community was still small enough that it was possible for a cartoonist to know most of his fellow artists, or at least most of the ones in his or her chosen genre. Even as late as 2003, a significant portion of online cartoonists were able to come together in the pre-Facebook days for promotional web comic awareness events like this one.

I had planned and scheduled the "Transformation" storyline long before this event was organized, however dove-tailing this strip into the plot actually worked out better than I might have hoped.


#328 "Web Comics Awareness 2003"
First
Strip
Previous
Strip
May 5, 2003
Exciting things you can do!
| | | | | |
| --- | --- | --- | --- | --- |
| | | | Feel my appreciation for all the people who helped me with this page by viewing the site credits. | |
---
Special thanks to:
Tugrik at Purrsia
for hosting the strips!